www.bloombergs.com
A New Reason to Go to a Museum? The Food,
Spiritmuseum, Stockholm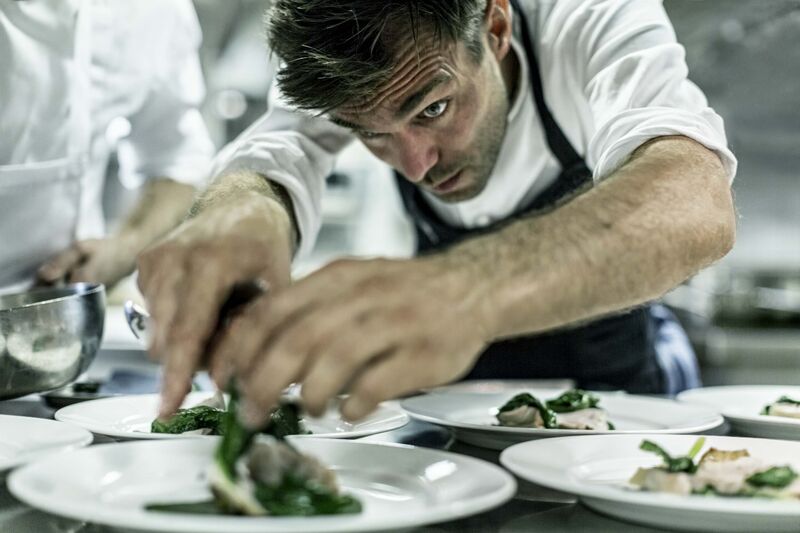 When the Spiritmuseum (dedicated to drinks, not ghosts) opened on the island of Djurgården, Sweden, its light-filled, stone-and-beam restaurant served as a homecoming for Petter Nilsson. The chef returned from 15 years cooking in Paris, most notably at La Gazzetta, the acclaimed neo-bistro he co-owned. "A friend of our family is the head of the city theater in Stockholm, and the museum moved into where that theater used to be," Nilsson told Eater in 2014. "It was a good coincidence." After admiring the Absolut art collection or an aquavit tasting, museum-goers can settle into ingredient-centric, season-specific Nordic dishes. In spring, try the grilled mackerel greened with wild garlic; go for venison with sunchoke, vinegar, and dill in winter. There is also a full tasting menu, plus a bar that serves such snacks as paté with pickles and herring toast all day.

How Sweden's Maverick Chef is Reinventing Nordic Cooking
Petter Nilsson once exemplified the chef-as-forager trend. Now, at Stockholm's Museum of Spirits, he's redefining what visionary Nordic cooking can be.
---

Nordic Food Lords
Bruce Palling
  April 24, 2015
The "new Nordic cuisine" label has only been with us for a decade but in that time, it has dominated the world food scene, gradually supplanting the earlier molecular cuisine movement with its artificial gels and foams…
Petter Nilsson
Nilsson was based in France for more than 15 years, where he made a considerable impact with La Gazetta, his "neo-bistro" in eastern Paris. His style is uncomplicated with an emphasis on the produce with a minimum of cream and sauces. He has been back in Stockholm for less than a year, based in the newly refurbished SpritMuseum, which is devoted to all things alcoholic. His airy, open restaurant is also on the waterfront, but is not aiming to make waves at the higher end. In fact, Nilsson has gone on record saying he disapproves of restaurants which charge large amounts for the privilege of eating there. Instead, his dishes include barley papadum-like wafers lightly smeared with pike-fermented cream and baby asparagus. Or a shocking pink dish of beets and endives. On a recent visit, he served slices of 37-month aged beef with little containers of onions with a beautifully seasoned stock inside. Meal for two Rs.6,400 for dinner, beverages not included Reservations www.spritmuseumse.staging.wpengine.com
---
Museum Restaurants With Food So Good You Might Want to Skip the Art
Spritmuseum, Stockholm
Leave it to a museum dedicated to all things boozy to have an impressive restaurant, too, where an elegant but unfussy lunch or dinner by chef Petter Nilsson (think grilled turbot with elderberries) will soak up the day's edification. (Reservations recommended.)
---

Restaurant Report: Museum of Spirits in Stockholm.
For seven years Petter Nilsson ran one of the most celebrated creative neo-bistros in Paris, La Gazzetta, tucked behind the Gare de Lyon. This Swedish expat brought "the country to the city," as he put it recently, cooking in clay and hay before everyone else did, celebrating vegetables over proteins before that became a global trend, too. In late 2013, after more than a decade in France, he returned to Sweden.
---
Aux sources du Nilsson
Après quinze ans à la Gazzetta parisienne, direction Stockholm! Au restaurant du Spritmuseum, la cuisine du Suédois Petter Nilsson est audacieuse, radicale et toujours inventive. La visite s'imposait.